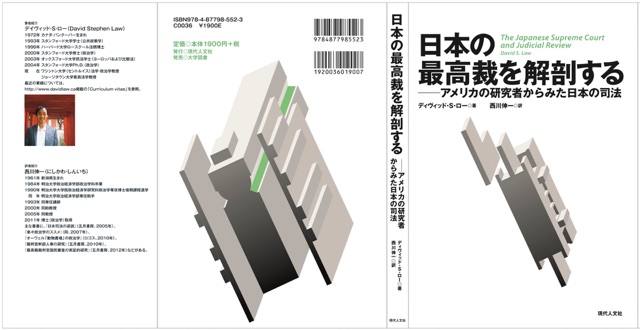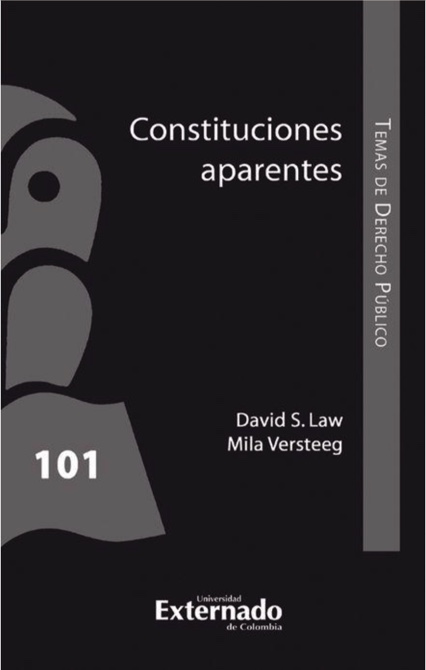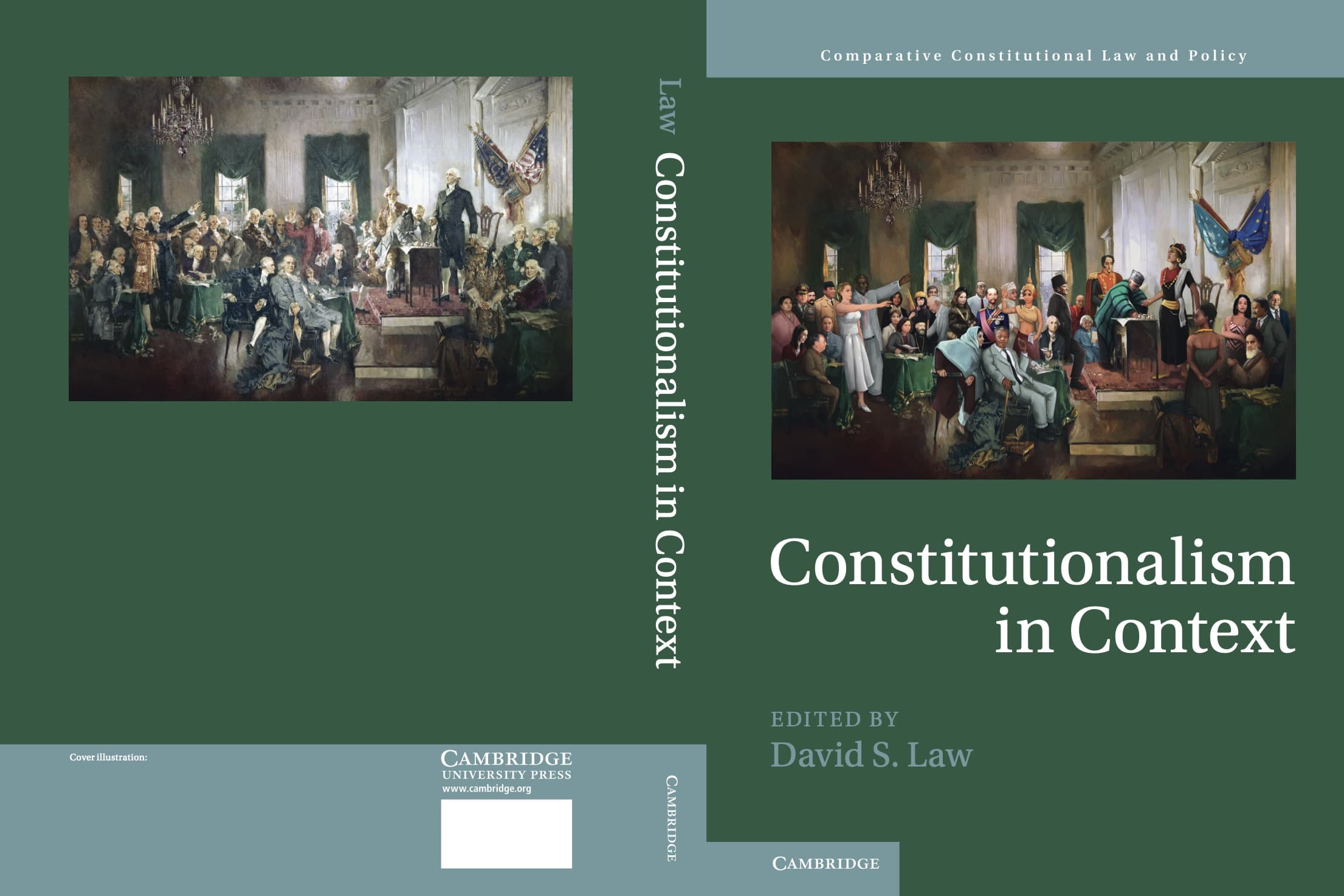 Publications
The graphics at the top of this page are the covers for my book on the Japanese Supreme Court (entitled "The Japanese Supreme Court and Judicial Review"), published in 2013 by Gendaijinbunsha (available from Amazon.co.jp), my Spanish book with Mila Versteeg, Constituciones aparentes, published in 2018 by Universidad Externado de Colombia, and my new book from Cambridge University Press, Constitutionalism in Context, available from all major booksellers (Amazon, Barnes & Noble, Book Depository, etc) and directly from the publisher. Many thanks to Professor Shin-ichi Nishikawa, a political scientist at Meiji University who patiently and painstakingly translated the book on the Japanese Supreme Court.
The following papers (and other more recent work) can be downloaded for free from my SSRN page. Comments are highly welcome, especially on works-in-progress.
"Constitutional Archetypes," 95 Texas Law Review 263 (2016). A major criticism of much empirical scholarship on constitutional drafting (and much empirical legal scholarship generally) is its reliance on the coding of data. The coding of inherently non-numeric phenomena (constitutions, judicial reasoning, etc.) into numeric data is often criticized for being incomplete, incorrect, biased, and/or lacking in transparency. This forthcoming article employs a form of automated content analysis known as Structural Topic Modeling, which is a way of analyzing large bodies of text for patterns without having to first "code" the text into numeric data. Many thanks to Brandon Stewart for his help and support (both moral and technical). Comments on this work-in-progress are highly welcome.
"Judicial Comparativism and Judicial Diplomacy," 163 University of Pennsylvania Law Review 927 (2015).
"Sham Constitutions," 101 California Law Review 863 (2013), co-authored with Mila Versteeg. This article explores empirically the phenomenon of constitutional noncompliance: which countries fail to comply with their constitutions, in what ways, to what extent, and for what reasons?
"The Declining Influence of the United States Constitution," 87 NYU Law Review 762 (2012), co-authored with Mila Versteeg.
"The Evolution and Ideology of Global Constitutionalism," 99 California Law Review 1163 (2011), co-authored with Mila Versteeg.
This article was translated into Chinese by Xiaofei Xu and published in the January 2014 issue of the Tsinghua Rule of Law Forum, along with a response by Professor Jie Cheng of Tsinghua University School of Law. The Chinese version of the article is available here, and Professor Cheng's response is available here.
"The Limits of Global Judicial Dialogue," 86 Washington Law Review 523 (2011), co-authored with Wen-Chen Chang. This article was presented and published as part of a symposium on "Global Law and Its Exceptions" held at the University of Washington in Seattle earlier this year.
"Why Has Judicial Review Failed in Japan?," 88 Washington University Law Review 1425 (2011). This article was written for a conference on "Decision Making on the Japanese Supreme Court" that John Haley and I hosted at Washington University in St. Louis in September of 2010. The papers presented at that conference, including two essays authored by retired justices of the Japanese Supreme Court, were published in a symposium issue of the Washington University Law Review.
"How to Rig the Federal Courts," 99 Georgetown Law Journal 779 (2011).
"Judicial Independence," 5 International Encyclopedia of Political Science 1369 (Bertrand Badie et al. eds., 2011). This essay identifies recurring sources of confusion over the meaning of "judicial independence" and deconstructs the concept into four component questions. It has been translated into Romanian (click here).
"Constitutions," from The Oxford Handbook of Empirical Legal Research (Peter Cane & Herbert M. Kritzer eds., 2010). This book chapter offers an overview and critical assessment of the empirical literature on constitutions (both quantitative and qualitative). Written with an international audience in mind, it addresses current topics of interest in comparative constitutional law and comparative judicial politics, and it argues in favor of increased methodological pluralism and innovation.
"Law Versus Ideology: The Supreme Court and the Use of Legislative History" (with David Zaring), 51 William & Mary Law Review 1653 (2010). We presented a much earlier version of this paper under a different title at the 2008 Conference on Empirical Legal Studies. This version incorporates over a year of additional data collection, recoding, and extensive revisions. For an abstract, please click here.
"The Anatomy of a Conservative Court: Judicial Review in Japan," 87 Texas Law Review 1545 (2009). Translated into Japanese by Shin-ichi Nishikawa and reprinted in Seikei-Ronso [The Review of Economics and Political Science], Vol. 79, No. 1 (2010). Japanese version available here.
"What Is Judicial Ideology, and How Should We Measure It?" 29 Washington University Journal of Law & Policy 133 (2009). Please click here for an abstract.
"A Theory of Judicial Power and Judicial Review," 97 Georgetown Law Journal 723 (2009).
Please click here for an abstract.
"Globalization and the Future of Constitutional Rights," 102 Northwestern University Law Review 1277 (2008). Please click here for an abstract.
"There Is Nothing Pragmatic About Originalism" (with David McGowan) (2007). This essay appeared in the Colloquy section of the Northwestern University Law Review and is a response to John McGinnis & Michael Rappaport, "A Pragmatic Defense of Originalism."
"Judicial Selection, Appointments Gridlock, and the Nuclear Option" (with Lawrence B. Solum), 15 Journal of Contemporary Legal Issues 51 (2006). Please click here for an abstract.
"Introduction: Positive Political Theory and the Law," 15 Journal of Contemporary Legal Issues 1 (2006).
"The Paradox of Omnipotence: Courts, Constitutions, and Commitments," 40 Georgia Law Review 407 (2006). Please click here for an abstract.
"Judicial Ideology and the Decision to Publish: Voting and Publication Patterns in Ninth Circuit Asylum Cases," which appeared in the January-February 2006 issue of Judicature.
"Generic Constitutional Law," 89 Minnesota Law Review 652 (2005).
"Strategic Judicial Lawmaking: Ideology, Publication, and Asylum Law in the Ninth Circuit," 73 University of Cincinnati Law Review 817 (2005).
"Appointing Federal Judges: The President, the Senate, and the Prisoner's Dilemma," 26 Cardozo Law Review 479 (2005).
"Why Nuclear Disarmament May Be Easier to Achieve than an End to Partisan Conflict over Judicial Appointments" (with Sanford Levinson), 39 University of Richmond Law Review 923 (2005).
"Executive Revision of Judicial Decisions," 109 Harvard Law Review 2020 (1996).
"And Now, A Word From Our Sponsor," 108 Harvard Law Review 489 (1994) (reviewing C. Edwin Baker, Advertising and a Democratic Press (1994)).